First things First!
Like scuba there is a first time for everything. I'm very new to this whole blog adventure thing so please bear with me.
Well here we go! Good day, my name is Adam, I'm currently the Dive Operations Manager at Ocean Connections Water Sports here on the beautiful island of Roatán in the Bay Islands of Honduras.
Our goal and focus here at Ocean Connections Water Sports is to introduce as many people as possible to the wonder and beauty of the underwater world. We do this through a few mediums. Mainly the underwater scooters or Breathing Observation Submersible Scooter or the B.O.S.S. as we like to call it. The other mediums are through scuba diving and snorkeling.
As the Dive Operations Manager, I am responsible for the day to day operations of the scuba diving side of the house. Making sure the boat gets off on time, making sure our guests are well looked after and that everything is maintained and ready to go for another adventure under the sea. I'll let Nikki the BOSS manager, fill you in on the scooters at a later date.
Our goal with this blog is to get you, the curious adventure seeker creature that you are, down here and get under the sea. We want you to make the kind of memories that will last a lifetime and will have you returning year after year for more warm sun, white sand beaches and some of the best diving the Caribbean has to offer. We plan on doing that by getting you excited about all of it. Every so often we'll be posting stories, experiences, adventures and pictures/videos. So please stay tuned, check in often at www.ocean-connections.com and tell us all about your adventures in the comments below!
Take care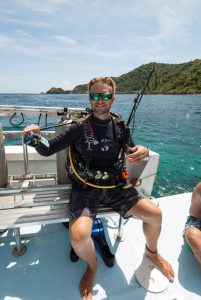 Ocean Connections BOSS & Scuba Adventure Blog